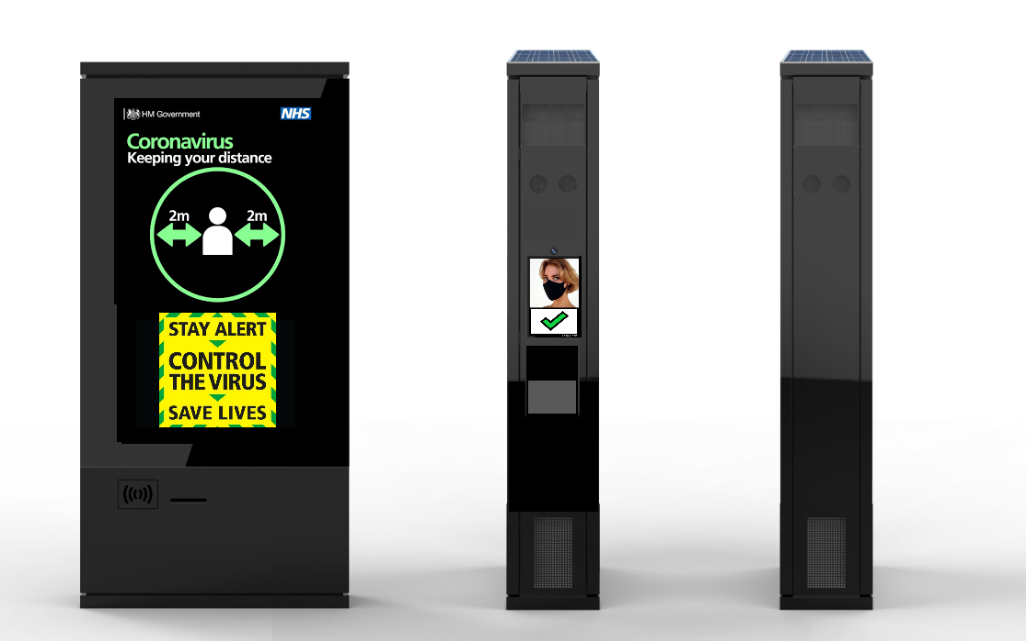 Double-sided with two 43" displays to show adverts, or perform essential check-in, enquiry, messaging, or wayfinding services. Includes a pay point, a ticket printer, and a dedicated hand sanitiser station.
VAvR iCheck has all the functionality of VAvR FAST iCheck with a Virtual Host/Concierge/Assistant, in an IP65 casing for outdoor use, with 4G/5G connectivity. With FAST iCheck enabled across the kiosk, it is ready to serve your customers at event locations, entrance ways, shopping malls, and retail locations.
Deliver brand messaging, or important safety messaging to your customers.
Enable your customers to ask a question, book an event or concert, find a location or pay for items.
With environmental thermal monitoring, check people have normal body temperatures at point of payment. 
Ensure customers use hand sanitiser when operating touch screens and in public areas.
Help to monitor the health of the general public allowing society to keep moving.
Determine if face masks are being worn using facial recognition.
Offset the costs of ownership with advertising revenue.
These displays, as per all our outdoor products, have airflow management/air conditioning, IK10 Glass, LTPRO low E-grade laminate and solar power support to help reduce running costs. The hand sanitiser wash station with replaceable tray is located beside the pay point.
SPECIFICATION
Touch Film Touch Condition Finger, touch pen
Touch points 10 points Response time ≤ 10m-sec Sensor quantity 4K
Touch accuracy ±1mm Supported OS Windows, Linux, Android Light transmittance ≥89%
Panel A&B
Item Specifications Unit Panel size 43 inch
Panel backlight TFT-LCD
Active display area 941 x 529 mm
Number of pixels 1920×1080 pixel (4K Available at Higher price point)
Luminance of white 3000 (Typ.) nits
Contrast ratio 3000:1 / Viewing angle 178/178 (wide) degree
Aspect ratio 16:9 / Response time 6 m-sec
Lifetime 60,000 hours
PC (2 separately system for A&B panels)
Processor
Intel® i5 4xxxU (base frequency 1.7GHz ~ 1.9GHz Max frequency 2.7G, dual core) RAM 8G DDR3 Hard disk 128G SSD Mother Chipset Intel H81 chipset, Sandy Bridge Video Chipset Intel HD Graphics, Shared memory Audio Chipset Intel HD audio OS Optional for Windows (inactivated), Linux I/O ports 4xUSB 2.0, 1xRJ-45, 1×3.5mm jack plug, 1xHDMI, 1xVGA, 1xDC 12V
Side Panel C
Panel size 10.1 inch Panel backlight TFT-LCD / Active display area 222.72*125.28 mm Number of pixel 1024×600 pixel Luminance of white 200(Typ.) nits Contrast ratio 400:1 / Viewing angle 178/178 (wide) degree Aspect ratio 16:9 / Response time 6 m-sec Life time 60,000 hours
Android system for C panel
Processor Rockchip® RK3368 (1.5ghZ, octa core) RAM 2G DDR3 Memory 8G flash memory Extended storage SD card socket OS version 7.1.1 OS language English (default, multi-language) I/O USB2.0*2, RJ-45*1, SD socket*1, HDMI*1,DC*1, Audio*1
Features for outdoor
Conservation of vision AR glass and light sensor (automatic change the brightness be based on sun light) Thermostatic control Temperature detector, centRAL control PCB Cooling System Powerful Turbofan & cross flow fan Air condition Timer with Dust gauze.
Hand Sanitiser 1L Capacity, Replaceable nozzle
Door Lock, please specify if you have a specific lock requirement
Public safety Lightning proof and ALCI, IK10 Low E Grade Laminate
All PC SPECS, PAINT FINISH & FEATURES CAN BE CUSTOMISED OVER MOQ.