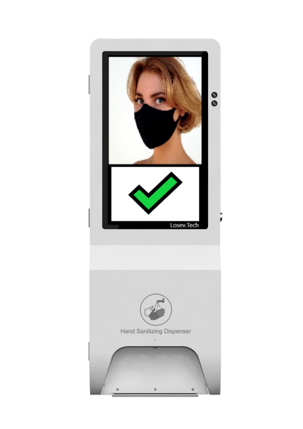 VAvR iCheck IR has all the functionality of VAvR FAST iCheck with a Virtual Host/Concierge/Assistant, in an IP65 outdoor or IP40 indoor casing, with inbuilt 4K Camera and body temperature thermometer for delivering a personal body temperature check and collecting audience metrics.
The VAvR iCheck IR is a high bright, multipurpose display with hand sanitiser station helping you to maintain a safe environment as well as enabling your customers to ask a question, book an appointment, make video calls, record video and chat with an online assistant or virtual host as well as pay for items.
21.5" high bright screen, with internal air circulation, IK10 Glass, LTPRO laminate. VAvR FAST iCheck enabled, it is ready to serve your customers at event locations, entrance ways, shopping malls, and retail locations.
VAvR FAST iCheck is a simple to use, quick reference, customer temperature check using environmental thermal monitoring and a Thermal Camera as well as a 4k camera to manage facial recognition to give results within a 0.5degree of accuracy.
SPECIFICATION
Touch screen type 10 point Capacitive Touch

Response time ≤ 10m-sec

Sensor quantity 4K Touch accuracy ±1mm

Supported OS Windows, Linux, Android

Light transmittance ≥89%

Unit Panel size 21.5 inch

Panel backlight TFT-LCD

Active display area 476.8*268.3 mm

Physical size 1170mm (H), 360mm (w), 160mm (d)

Number of pixels: 3840×2160 pixel

Super wide viewing angle

Aspect ratio 16:9

Lifetime 60,000 hours
APPEARANCE
Colour white as standard                

Optional Gloss Black, Gun metal Grey or RAL MOQ req. Gun metal finish is required to be sanitized.

Surface treatment Powder coated Ion anti-bacterial

Shell material aluminium frame, tempered glass face & cold-rolled sheet body

Installation Wall mount, Stand or Wheels

Loudspeaker

Power input AC 100 ~ 240V, 50/60 Hz

IP code IP20/40/65 depending on solution purchased

Hand sanitiser capacity 3.6Ltr or 5ltr Capacity

Dispensing Sanitiser Auto dispense of Sanitiser with hand motion

Camera 4K resolution infrared sensor Temperature check

Working temperature 0 to 40°

Storage temperature -15℃ to 50℃

Accessories 8G SD card*1, remote control*1, wall mount bracket & screws *1, key*1

All specs and options can be customised to order