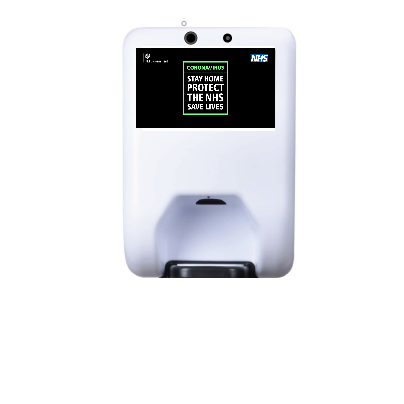 Publish your own advertising, place direct WHO or Government Health advice. Activate the Ion anti-bacterial tempered glass touch screen to get points across and deliver your needs to every location and keep cross contamination low.
With or without VAvR FAST ICheck  thermometer this dynamic hand sanitiser kiosk can keep the Queues moving in your locations and help make sure people are at a normal body temperature. With SD Card, USB Plug and play or online with your CMS. 
PLACEMENT RECOMMENDATION
It can be used with access gates and access control for communities, office buildings, schools, hotels, scenic spots, transportation hubs and other public service places.
SPECIFICATIONS
Screen Size

10″

Touch Screen

10 point

Resolution

1024x600px

Aspect Ratio

16:09

Pixel Pitch

0.2175(H)*0.2088(V)

Viewing Angle

160°/160°

Contrast Ratio

1000:1

Brightness

300cd/m2

Processor

Sensor

Android 8

IR Sensor Losev.Tech Pro Grade

Speaker Type

Camera

2 x 1W and audio input

HD CAMERA – 4K Only on request

Power Consumption (W)

5W

Input Voltage

AC 100-24-V, 50-60 Hz

Unit Size

440x300x125mm

Memory

2GB internal, 8GB SD Card incl

File Format

JPG, MPEG1/2/4,Divx

Slots

SD/MMC,MS,XD & HDMI

Colour

White